Reviews:
PSYCHADELIC FOLK (Belgium) July 2011 Gerald Van Waes _329l#anchor_329Orriel Smith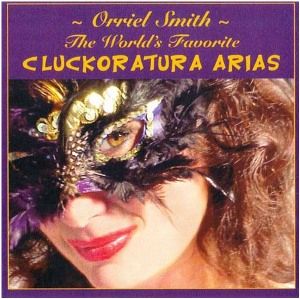 Orriel Smith: The World's Favorite Cluckoratura Arias
Orriel Smith: Live! From CarnEGGy Hall
Differently are the two song albums from a few years earlier, which are absolutely unique. I am sure no one has heard anything like these albums before. First of all the terms "CluckOratura" and "CatOratura" will be new to you. It simply is the wordless singing technique calle "Cluckoratura" translated into chicken and cat-like sounds. On the interview with the magazine "Ptolomaic Terrascope" Orriel explains: "I was rehearsing some music with my coach, Jill Goodsell, when I noted that it was a shame that they don't seem to teach much agility and vocal gymnastics anymore. Most of the College students are give Geman Leider, and slow lyrical songs. I was saying to her that that was a shame and "staccato" might as well be a chicken clucking so I started clucking away. Then I thought, "Why not? They say to 'do what you love'. I love the arias, being silly and making animals sounds, so why not do them all at once"?
Some of her interpretations almost seem to be made for this approach, like Mozart's "The Queen of the Night" aria, some Donizetti. Verdi's "Caro Nome", the choices from Delibes, or Elgar's "Salut D'Amour" and so on. At it's best, her approach seems like a genius idea. It's not just the idea, but how it's done. It has the possibility of a new technique, of being even a new side-musical form. It surely is very well done. It needed the guts combined with the skills, to have tried this, as she did, in a serious context. But she did, and it was well received. It might have been safer to have done this in a pure comic association or a children's concept, but it is much more serious than that, and it only succeeds because every note and chicken-like accent is done correctly at the fitting moments. Somehow, some capacities of hidden vocal expressions are freed, and the result sounds in fact less forced as a vocal technique compared to the effect which some classical opera singing often gives. Orriel's interpretation of Verdi, never made me appreciate this music better. The "blown up" effect has been overcome, and the music becomes more spontaneous.
On the second album we also have cat and chicken duets. At times it's more like a kitten than an adult cat.and includes "mrrrrr" sounds. On the vocal overdubbed choir of chickens and cats of "Colonel Bogey Cuckoo Cluck", I suspect even a pig stumbled in occasionally like a thief in the night. On "Chere Nuit" it sounds a bit as if the chicken's voice is slightly drowning in water. And somewhere else I think even a small mouse must have peeped through. This is a must-have heard. Please release these on a "real" CD/LP and save these for future generations to come!
*****

"Not since the days of Rusted Root has a singer so convincingly mimicked the vocal inflection of a chicken. Like some freakish cross between Big Bird and Mariah Carey, Smith succeeds in clucking her way through operatic pieces by such notables as Verdi, Donizetti, and Mozart. The album opener, from Mozart's 'The Magic Flute', is so finger-lickin' good, one wonders if Wolfgang intended it to be performed this way."
D. Lurie, NadaMucho.com

"This certainly ranks high beside other great operatic parodies . . . it deserves to be better known . . . Dazzling high register . . . Smith's disc leaves you wanting more . . . Excellent stacatti work with startling forays into the high register".
L. Limansky, DivaLegacy.com
"Once you recover from the initial shock of the concept, step back and experience awe at Smith's range, control and humor . . . Overall, the CD was Cluckingly wonderful"
Bob Tarte, Technobeat, The Beat Magazine
"This woman is amazing. Her range tone and strength awed me. I laughed until I 'cracked' up! Once you listen to this woman's voice, you'll be in love . . . and I'm not 'clucking' around!!"
MusicShopper.com
"Orriel Smith . . . has a truly remarkable voice. These seven well-known coloratura arias . . . receive the same imaginative treatment . . . and stratospheric high notes . . . This is another CD that inquiring vocal collectors should investigate . . . The CD is a hoot, or should I say a 'cluck'?"
R.E.B. ClassicalCDReview
". . . The camp value is high on this subject, Smith pulls it off completely . . . done in a graceful, soprano chicken cluck . . . it takes not only a whole bunch of balls but talent to pull this off".
Edie. Dig This Real
"I put this on the CD player and my house was filled by extracts of Mozart and Offenbach with the vocal parts clucked rather than sung with demented verve . . . with a pure opera singer's voice".
Martin Gurdon author: Travels With My Chicken
"Orriel Smith has crafted an album so bizarrely beautiful, that it's difficult to explain why it's so good. But it is. It's absolutely amazing! . . . I keep wondering how I ever lived without it. It speaks to me on some bizarre, basic, strange, level of fun weirdness" A.L., GA
"What a fun CD!! Musically . . . superb!! and LOTS of thrills!! . . . A REAL MUST for every fan of high coloraturas!!" R.P., NYC
"How in the world did you do the chicken noises perfectly? . . . So cool . . .even my little sisters are trying to get the high notes like you do." J.R., PA

From CDBaby:
Squawk! This is good... Reviewer: Eva Ströberg. If you are a chicken lover, and have at least a remote interest in opera, this one is for you. I find myself happily clucking and squawking along...
An auditory delight! Reviewer: Holly. Every chicken enthusiast needs to own this CD. The singer's voice is so skilled and her delivery so perfect that it is an absolute delight to experience her work. It's brilliant!
You have to hear this! Reviewer: Erica. This makes great escapist listening because it just puts you in a good mood. You can tell she's a technically proficient singer, but she makes fun of herself this way and has a ball doing it! If you're a singer and need a break from the mundane, repetitive life, just pop this in and get carried away in stitches!
Technical bravura; to opera as the Trocaderos are to ballet. Reviewer: John. An opera fan will wet him/herself from the first notes of the Queen of the Night Aria. Subsequent listenings reveal Ms. Smith's astounding technical control, tonal sophistication, and interpretive brio. There are few sopranos who can punch the leaping arpeggios of that aria as she can. The Trocks can really, really dance, and Orriel Smith can really, really sing.
Operatic parody at its best Reviewer: Nicholas Limansky. Available from a Portland, Oregon company, CD baby, and privately produced, this CD was released two years ago in 2004. Surprisingly, it touches within a number of arenas. The concept of a chicken "clucking through" a coloratura aria is not a new one. However, Orriel Smith goes one further by showing a voice that, when allowed to float freely on its own, turns out to be quite beautiful. This is especially true in the upper register which is sweet, pure and right on target when it comes to pitch. Not only that, do not assume that because of the humorous emphasis of the CD that this is something Ms. Orriel threw together. Not at all. The clucking has been thoughtfully plotted for each aria and various types of clucking sounds and placements have been used. To her credit, she actually sounds like a chicken. Complimenting her clucking is excellent staccati work and some startling forays into the high register. (for a longer review of this disc go to divalegacy.com and look under Recordings)
What fun !! A "MUST" for every opera fan Reviewer: Ron Pollard. What a fun CD!! Musically ...superb!! and LOTS of thrills!! Ms. Smith knows when to "cluck" and when to sing "the REAL high notes" (esp at the end of Caro Nome). A REAL MUST for every fan of high coloraturas!!
CD serves to introduce kids to classics & showcase major talent Reviewer: Mike Sheppard. This CD serves two purposes. Firstly it brings a grand touch of humour to the classics-the atmosphere of The Three Tenors at their most whimsical. It could serve parents well as an intro to the classics helping young curiosity to hear the human version! Behind the cluckings' lies a very clever mind-which is the hallmark of all originality and a consummate artist. The second purpose would be to lead the listener down the rewarding path of finding Orriel's folk LP, "A Voice In The wind". This seminal work of British ballads, spirituals and American folk classics showcases surely the most beautiful voice of a generation. Hear it and judge for yourself-you will be well rewarded.
Birthed by a chicken? Reviewer: Andrew Lynch. You know, to some, this will seem like nothing more than a cute novelty item; a quirky piece of pop (classical pop?) culture that's fun for a moment, then promptly forgotten. But you know what? Those people are dead wrong. Orriel Smith has crafted an album so bizarrely beautiful, that it's difficult to explain why it's so good. But it is. It's absolutely amazing. She "b-gok's" and warbles her way through the delicate instrumentation, sometimes lifting her clucking to a pitch you never knew existed in human (or chicken!) vocal cords. It's strangely moving and sad at some parts, and quite fun in others. It takes you to another reality, where coloratura chickens, decked to the nines in pearls and peacock feathers, sing opera on elaborate Venetian stages. And come on, who doesn't want to be *there?* Thank you, Orriel, for sharing your talents with the world. I can't wait for your next project!
Other Media:
April 8, 2004 ~ Florida Public Broadcasting: New Florida Magazine "Key West Chickens" Episode #4011
Radio Interview: March 23 2005 ~ KJAG Radio. www.ampcast.com/music/search.php Type in "Orriel Smith"
Radio Interviews: REMFM Radio Europe, Malaga Spain, May 4 & 23
Current 2006 : Cluckoratura CD cuts used with Ballet Compagnie Blanca Li, France, Spain