TERRASCOPE REVIEW, ENGLAND .

ORRIEL SMITH – A VOICE FOREVER IN THE WIND June 11, 2011
Almost exactly four years ago we had the pleasure of interviewing Orriel Smith on the heels of her appearance on the Fuzzy-Felt Folk compilation. In the intervening years, Ms. Smith has released several albums of "cluckoratora", wherein she clucks famous arias from the likes of Mozart, Verdi, and Puccini. However, her heart has always been close to the folk songs she sang on her debut album, A Voice In The Wind released by Columbia nearly 50 years ago. At the end of our interview, she expressed a hope that one day she would return to those types of songs and this similarly-titled release is the long-awaited result. As she says in her liner notes, she has "always kept a special fondness for the poignant melodies and diverse characters in folk music."
Accompanying herself on guitar and with sparse orchestral arrangements performed by Don French, Smith delivers an impassioned collection of traditional folk songs from Ireland, Britain, America, Mexico, Russia, and Aotearoa/New Zealand. The backing ranges from a softly intertwined guitar and orchestra on opener, 'She Moved Through The Fair' to her gently plucked acoustic guitar on 'Lady Mary' and 'Songs My Mother Taught Me', to the a capella marvel, 'Come All You Fair and Tender Ladies' that finds her in as fresh and fine a voice as those early recordings.
Throughout, her crystalline voice tickles the heavens, occasionally operatic, but never less than emotionally enthralling. Think back to that voice wafting from the radio towards the end of the original Invasion of the Body Snatchers and you'll get an idea of the immaculate purity and emotion in Smith's vocal pyrotechnics. 'Danny Boy' is as heart wrenching as any version you'll ever hear, and her other tales of death, forbidden love, and lost virginity snuggle warmly up alongside songs of faith and devotion, including the a capella 'Were You There When They Crucified My Lord' / 'Amazing Grace' medley that'll bring tears to the eyes of angels. Record companies don't release albums like this any more, which may explain why Ms. Smith has elected to release it herself. You can find it at the link above. It's one of the summer's earliest treats. (Jeff Penczak)

FOLKWORLD, Europe © David Hintz

Orriel Smith "A Voice (Forever) in the Wind"

This may be a sparse record with mostly acoustic guitar, but Orriel Smith's voice commands a lot of room in the sonic atmosphere. I was going to compare her to Clannad or Enya, but I think comparisons to your favorite soprano singing her greatest arias may be more accurate. There are a collection of worldwide folk songs covered here such as stalwarts "She Moved Through the Fair" and "Danny Boy". The studio treatment of her voice is very direct with enough echo to make it sound like it is coming from La Scala or St. Patrick's cathedral. More amazingly, Ms. Smith's first album was released in 1963! So she is quite the veteran but her voice sounds as fresh as ever. If you like a simple set of songs featuring an amazing voice and at times interesting interpretations, this record will be for you. And even if you are not sure, most of these songs are worth a listen just to hear what a powerful yet tender voice can sound like.
CD BABY REVIEWS
Aha! I just knew it!

Author: Tyrone
It's so interesting, after taking a dare from a friend to make my previous purchase of Ms. O's most inventive and entertaining work (Live! From CarnEGGY Hall) I decided to test the water again-but this time with a more traditional oar. And, just as I had expected, Ms. Smith does not disappoint. As a matter of fact, and probably partially due to this being her most recent venture, the recording quality and performances may even be another step up from the last one. My gut would tell me that one would likely have to be quite an accomplished and experienced vocalist in the traditional sense of the term in order to pull off what she did with her animal emulations. However, and most definitely, now I am absolutely certain of her immense abilities. Whereas my previous purchase was immensely entertaining, "A Voice in the Wind" is also immensely satisfying as well as entertaining…but from a far more conservative standpoint. Non the less, this is not to say that her treatments of these more 'folk' oriented performances are by any means lacking in creativity or spirit…..actually it is quite the opposite. With her latest rendering we get to hear that still clean sense of creativity but now also with the complete assurance of her technical prowess and attention to musical detail on something that can in no way hide behind any kind of comedic distraction or "animal" parody. The fact is, she now has thoroughly cemented my opinion that not only is the woman funny and willing to share her uniqueness with the world, but also that she is just one heck of a very fine and well trained vocalist at heart. Thanks again…'Ms O…as in "OMG, this girl can sing".
P.s. When's the next one coming out??
"Your CD transports me to a happier, less stressful world. I particularly enjoy listening when I'm driving distances on the freeways….." John G, Irvine Ca
"Your voice is absolutely wonderful and your renditions are exquisite…" Max S. Fullerton, CA.

allmusic.com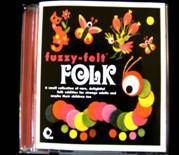 ….Finally, Orriel Smith's "Winds of Space" is one of FUZZY FELT FOLK'S most obscure songs. In fact, this and the other Smith song here, "Tiffany Glass," are her only recordings; both were culled from the BBC's singles library before the broadcasting company sold off some of its oldest 7"s. "Winds of Space" — which seems to be a lullaby for the universe — isn't just the strangest song on the album, it's light-years away from other children's music. A poem set to music, it's remarkably free-form and forward-thinking, even by the standards of the time. Prickly, atonal guitars are sprinkled over a syncopated bassline, while far-off flutes and Smith's pure, icy soprano sparkle like starlight. Though a full-length album by Smith and her collaborator, composer/arranger Phillip Lambro was planned, unfortunately it never came to pass. Based on this song and "Tiffany Glass," it's a pretty big loss for fans of incredibly strange (and lovely) music.


PSYCHADELIC.HOMESTEAD.COM
"Suitable for all ages" says the back cover. Many of these delicately arranged perfectly sweet songs could fit perfectly in a '60s small children series. Other tracks, like "Tiffany Glass" from Orriel Smith could have fit easily on a Agincourt / Sallyangie/... association. Orriel's other listed track, "Winds of Space" is in a sweet comprehensible way a bit more experimental. Unfortunately her planned full LP was never made, and only these two brilliant tracks survived, now luckily found a fitting full release for it.
"The results can be oddly avant-garde: with its staccato melody, shimmery tinklings and atonal guitar, Orriel Smith's "Winds Of Space" sounds like something Tom Waits might have made for a newborn child. Decidedly weird. (blog)
Terrascope UK Review

Orriel Smith is, for yours truly, the major find of the album. She recorded two tracks ('Tiffany Glass' and 'Winds of Space') for film composer Philip Lambro's Tudor Records and can also be heard on Lambro's score for the 'Crypt of the Living Dead' horror-flick. 'Tiffany' has an ultra-fragile otherworldly beauty redolent of the finest Linda Perhapcs or Vashti Bunyan material while 'Winds' is a kozmic folk swirl with tape effects (as surrogate Moog) which soon becomes a showcase for Orriel to pitch some notes that resemble scattershot high-end theremin swoops. Sun Ra meets The Swingle Singers at Jodrell Bank! There was also to have been an Orriel Smith solo LP, but sadly it never happened. Why?!?!

FOXY DIGITALIS Jeff Penczak 07
If you're a fan of Trunk's previous "Music For Biscuits" highlighting the work of the Mike Sammes Singers, then this is right up your alley, as is Orriel Smith's "Tiffany Glass," sung in a voice of such cotton-soft delicacy that I want to envelop her in the warmth of my loving embrace and retire to the back room for some further "conversation." The glistening windchimes, xylophone and fluttering flute are all cherries on top. The scatter-brained flip side of this glorious one-off single on the Tudor label, "Winds of Space," which sounds like Klaus Nomi on helium is also included and together they've sent everyone who's heard them scurrying off in search of Smith's other recordings, which will hopefully find their own compilaiton release someday soon.

Ear-Rational

Fuzzy-Felt Folk LP
……..and Orriel Smith is a great lost American singer who composed these two psychedelic, progressive, jazzy tracks with funky film composer Philip Lambro- these tracks have remained lost until now…
HMV.co.uk.
Rare children's folkish oddities, rescued from late '60s and early '70s obscurity. Record labels like Trunk act as musical archeologists, unearthing little gems from land on which the mainstream has built a mansion. As compiler Johnny Trunk says: "This stuff takes years to find, and then even longer to track down the owners." …And Orriel Smith's trippy Winds Of Space is just... odd. And feels quite at home here, as a result. - HMV Choice
URBANPOLLUTION.COM Ian Shuler
…..Other tracks come via British Broadcasting, though they are practically unknown. Both "Tiffany Glass" and "Winds Of Space" were acquired from the BBC, as they sold off nearly 20,000 7" singles several years ago. American composer Phillip Lambro arranged music for both of these using the words of two different poets. Later on, Lambro made soundtrack scores for films such as Murph The Surf. "Tiffany Glass" is like a lost Vashti Bunyan song. Though it is more produced than the earthy, angel-voiced Bunyan, the vocals are eerily similar, whispery, child-like and wondering. "Winds Of Space," on the other hand, sung by Orriel Smith, is a difficult nugget of experimental, Jetsons-era jazz-folk. Or better: children's psychedelic math-rock. While the standup bass and pipes say jazz, the winding electric guitars hint at the Chicago we know today.
LESINROCKS FRANCE

….Rien que pour les minutes suspendues aux lèvres de l'indicible Orriel Smith, dont le Tiffany Glass appartenait aux archives dilapidées de la BBC, Belle & Sebastian pourrait revendre son chien, alors que la plupart des titres dévoilent tant de sorcellerie qu'on est à peu près sûr que les Super Furry Animals ou Beta Band en ont été biberonnés.
Dubfrrog Worldwide
A few years ago the BBC sold off a large number of its singles collection. Nearly 20,000 7" discs were dispersed very quickly indeed through shops, charity organisations and so forth. Salvaged from this vast collection was a rare copy of "Tiffany Glass" and "Winds Of Space". These two quite unique (and unknown) pieces of soulful, experimental jazzy-folk were put together by Phillip Lambro, the prodigious American composer, writer and soundtracker. Using the words of two different poet writers, the tracks were arranged and then issued by Lambro's own short lived label "Tudor Records". Phillip Lambro went on to score for several cool movies, including Murph The Surf (being reissued on CD this year) and Orriel Smith can be found singing on Lambro's rare score for "Crypt Of The Living Dead". An Orriel Smith LP was planned at the time but sadly was never made. These are the only two recordings.
Boomkat.com
…From here it's one unheard treat after another, with particular highlights including The Barbara Moore Singer's 'The Elf' (think the best kids-show soundtrack ever heard through a sugar induced hangover), Orriel Smith's otherworldly blush on 'Tiffany Glass' and 'Spin Spider Spin' from Peggy Zeitlin. Closing on a ridiculously odd cover of 'Teddy Bears Picnic' from the Opportunity Knocks-famed Piggleswick Folk, 'Fuzzy Felt Folk' is a guilty treat that will be lapped up by music lovers of all ages.